* The content of this article is intended for a medical and veterinary audience due to graphic images of surgical procedures.
Patient
Shih Tzu
Complaint
Carpal valgus deformity due to premature closure of the distal ulnar growth plate.
Brief
Anatomical models were requested from the patient CT scan data and 3D printed. Placement of an IMEX hinged circular fixation frame on the anatomical model was planned prior to the surgery to test it's fit on the limb.
Anatomical Models
The IMEX hinged circular fixation frame was pre-assembled based on calculations of the deformity correction required (biapical deformity) measured from CT and radiographs. The frame was then applied to the 3D printed anatomical model; two osteotomies of both the radius and ulna were performed with acute correction of the external rotation present distally and progressive correction of the valgus and procurvatum deformities performed with adjustment of the motors.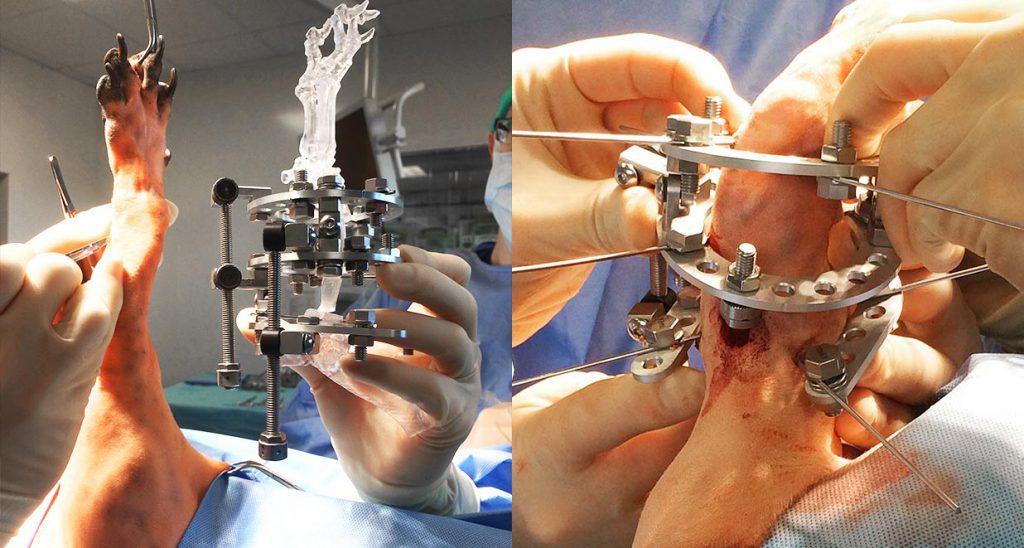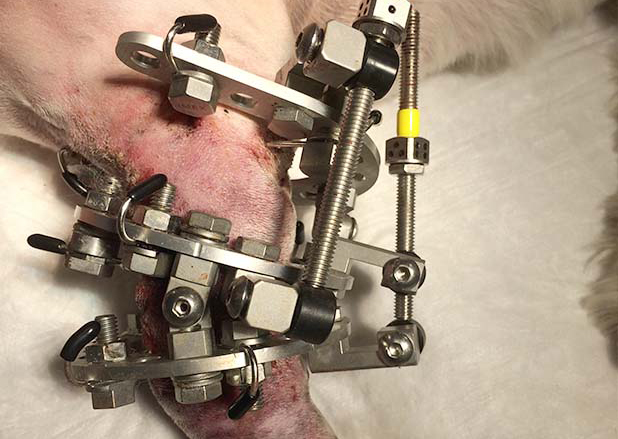 A duplicate of the frame was then made that could be applied intra-operatively. Pre-assembling the frame in this way dramatically reduces surgical time and adjusting the frame on the model increases the accuracy of correction as the exact amount of adjustment of the motors can be assessed preoperatively.
The anatomical models were 3D printed in a biocompatible polymer that can be sterilised via autoclave prior to live surgery; once sterilised they can be handled by the scrub theatre staff.
"Pre-assembling the frame in this way dramatically reduces surgical time and adjusting the frame on the model increases the accuracy of correction." 
Consultant Surgeon